With the launch of PiNCAMP.de in November 2018, ADAC SE set a new benchmark: a
modern design, mobile-first, intuitive usability, over 9,000 campsites featured, 5,500
campsites with the proven ADAC Classification, over 36,000 reviews, several
thousand campsites with professional images, an accompanying camping magazine,
very strong engagement on Facebook & Instagram, successful search engine
marketing and a seven-digit marketing budget per year. Since January 2020,
PiNCAMP.ch is also available in Italian and French in partnership with TCS.
Discover now our online offers for PiNCAMP.de and PiNCAMP.ch now:
ADAC Camping App
The ADAC Camping- und Stellplatzführer App
has the top spot in the Apple and Google App
Stores. With over 77,000 paid downloads in
2019 alone and around 10 million profile
visits, the app offers an extremely high reach.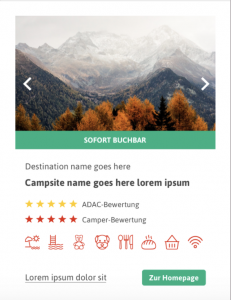 PiNCAMP Online Booking:
By offering direct bookability on PiNCAMP, you get more visibility and more guests for your campsite.