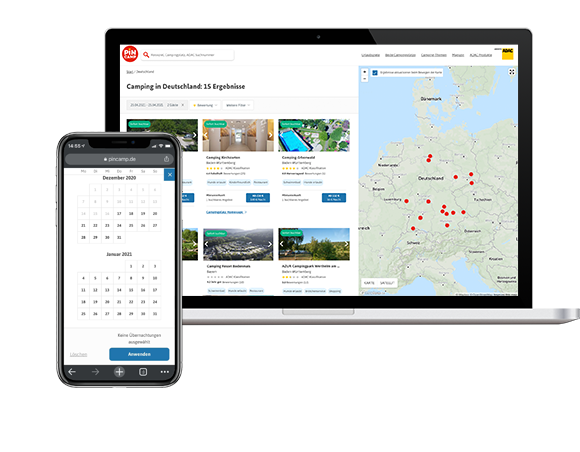 Get more guests with ADAC Camping Booking Pro
More and more campers look for campsites on PiNCAMP that they can book online at specific dates. For these specific searches, campsites that work with PiNCAMP Online Booking will be shown more prominently. With ADAC Camping Booking Pro, we offer a simple yet powerful system to make your campsite bookable online for German and Swiss campers.
Your advantages with ADAC Camping Booking Pro
I want my campsite to be bookable on PiNCAMP. What do I have to do?
Make a non-binding, individual inquiry today.
PiNCAMP is currently working with various partners and thus enables you to choose from a wide range of technical interfaces for your already existing booking system as well as simple solutions if you do not use a technical system yet.
We are happy to advise you on the connection possibilities and then refer you to our partner.
5 easy steps to be bookable:
More and more campsites choose ADAC Camping Booking Pro. The easy connectivity of the systems as well as the flexibility in pricing are highly appreciated.
Frequently asked questions
Do you have questions about the online booking process or need help? We answer your questions about our connectivity options, commission models, invoice processing, cancellation process & much more.
Make an individual inquiry now: