What does PiNCAMP do?
PiNCAMP is the camping portal of the ADAC. All camping related activities of the ADAC are bundled at PiNCAMP. From the best campsites in Europe to professional expert classifications and inspiring content around camping: On PiNCAMP users will find what is happening in the camping world.
Our vision:
The possibility to book Europe's campsites online: from home, on the go, easy, convenient and with just 2 clicks. Plan a camping holiday without spending hours on the internet.
Why should I present my campsite on PiNCAMP?
Visibility: Strengthen the online visibility of your campsite and generate more guests.
Expertise: Benefit from our digital experts who are always at your side.
Appeal: We present your campsite in a professionally designed and clear profile.
Simplicity: Our contemporary design and optimization for all mobile devices enables a quick and convenient search for the user.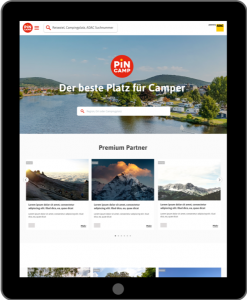 Take advantage of the opportunity to place your campsite on PiNCAMP with a free BASIC entry and increase the attention of potential guests.
Simply fill out the form below and contact us.
More information about our marketing packages and other options for increasing your visibility can be found here.