What is the ADAC Classification?
The ADAC Classification is a rating of the overall campsite standard and can be awarded in full or half stars. The classification is based on results in five different performance areas, which are divided into ten individual categories. The performance areas are: sanitary facilities, site, campsite stores, recreational offering and swimming opportunities.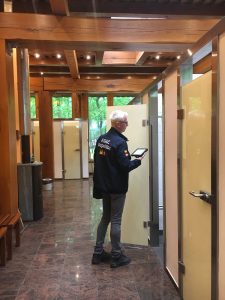 The weighting of the performance criteria
Not all criteria are equally important to campers. That´s why the different campsite characteristics weigh differently on the ADAC Classification.
Rating sanitary facilities
Sanitary facilities are the main selection criterion for campers and are the most important aspect of the campsite infrastructure. That´s why they have the highest influence on the ADAC Classification.
Requirements per 100 pitches* to achieve the highest rating:
9 washbasins with hot water
3 individual washing cubicles with hot water
10 shower cubicles with hot water
7 women's toilets
6 men's toilets or urinals
1 wash basin or 1 washing machine
1 sink
1 spout for cassette toilets
We use the following weighting: Pitches for tourists = 100%. Pitches for permanent campers without own sanitary facilities = 60%. Rental accommodation without own sanitary facilities 100%.
Requirements for structure, design and equipment of sanitary buildings to achieve the highest rating:
Solid building in masonry, concrete or wood (no sanitary container)
Architecturally appealing construction and attractive exterior design
High-quality construction and installation materials
Separate areas for women and men
Spatial separation of the toilet areas from other sanitary facilities
Sufficient aeration and ventilation
Adequate lighting (each installation has individual lighting)
Flush-mounted installation of all pipes and lines
Suitable floor slope in wet rooms for optimal water drainage
Partition walls for toilets and showers are closed at the bottom
Adequate tiling of walls: minimum height of showers = 2m, for toilets and washbasins = 1.50 m. Instead of tiles, other high-quality materials (e.g. natural stone) can also be used.
All cubicles are lockable from the inside
Sufficient passage widths, especially for cubicle doors that open outwards
Sufficient amount of waste containers
Minimum distance from washbasin center to washbasin center = 1m.
For washbasins with side partitions, minimum distance from partition to partition = 1m.
Single wash cabins and showers: Minimum area of 1.80 sqm; minimum width of 90 cm.
Toilets: minimum area of 1.60 sqm, minimum width = 90 cm. Minimum distance from the toilet to the cabin door = 65 cm.
Washbasins and wash cabins: each with a mirror and a power socket
Showers: vestibule with seating, separated from the shower area by a splashback wall
Washbasins, wash cabins and showers: sufficient storage space and equipped with coat hooks
Toilets: equipped with seats, toilet paper, toilet brush and coat hooks
Hand basins at toilets: have sufficient soap dispensers as well as towels or electric hand dryers.
Urinals have with privacy screens
Rating the campsite stores
Food, drink and other offerings on the campsite are usually available at larger facilities and are a useful luxury for many guests, saving them extra trips and allowing for a little extra relaxation time.
Kiosk / Grocery / Supermarket

Only the best shopping facility is rated
Grocery stores and supermarkets are additionally classified into one of the following three categories, depending on the range of products and store ambience:
Limited offering
Standard offering
Good offering
Camping and leisure items
Camping and leisure items are also divided into the following categories:
Limited offering
Standard offering
Good offering
the highest rating is awarded to campsites with one supermarket with a good offering and a camping and leisure items store with a good offering
Snack Bar / Restaurant
Restaurants are rated in three levels:
Simple
Good
Exceptionally good
only the best gastronomic offering is rated – if a campsite has a snack bar and a restaurant, this will not be taken into account, but it will be included in the pictogram bar.
the gastronomic offer should be open on at least six days per week during the main season
the highest rating is awarded to campsites with one exceptionally good restaurant
Rating the recreational offering
The recreational offering is divided into two subcategories: permanent facilities at the campsite and animation programs. They are particularly important to families with children.
Rating the swimming opportunities
For many German campers, swimming is an important part of their vacation. Not only lakes and beaches enjoy great popularity, but swimming pools too are very attractive for campers.